News - year 2007:
1. and 2.12.2007 - dachshund Nessie z Chotuckých alejí was entered on two- days international dogshows at Wels - Austria.
She compete in junior class on Saturday and obtained judgement excellent 1, Jugendbester.
On Sunday, she was exhibit in intermediate class and was excellent 1, CACA and finally CACIB.

12.11.2007 - today we recieved Monty's z Chotuckých alejí results from international dog show Nitra, 3.11.2007.
And they have reason to be proud with Monty, he obtained judgement Excellent 1, CAHCAJC in junior class. He finnished Slovak Junior champion title.
Congratulations to his happy owner and to Monty himself too.

3.11.2007 - dachshund Nessie z Chotuckých alejí was showed in intermediate class at international dog show Nitra Canis, SLovakia.
She obtained excellent judgement and titles CAC, CACIB.





25.8.2007 - last welsh springer puppy from litter R out of Honey z Ohradek - Rexi z Chotuckých alejí travel today to her new home.

23.8.2007 - young welsh springer spaniel Monty z Chotuckých alejí obtained at International dog show Bratislava 18th and 19th of August two CAJC titles. On Saturday, welshies was judged by Oscar Valverde Calvo (Costa Rica) and on Sunday by Oliveira Rui (Portugalsko).
Congratulations to Monty and his master and wish them to continue with successes!



21.8.2007 - welsh springer spaniel female Rickie z Chotuckých alejí gone to his new home.

19.8.2007 - today we travelled to Niederland, Almere city, where we attend welshie's Kampioenschapsclubmatch to see some pretty dogs.
There was entered 101 welshies! All puppies and adult male dogs judged Mrs. Marjo Jaakola, adult bitches judged Mr. Mansel Young.
It was really unforgetable experience to see such amount of beautifull welshies together.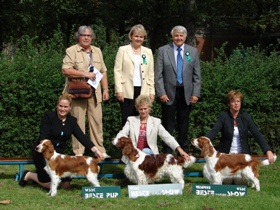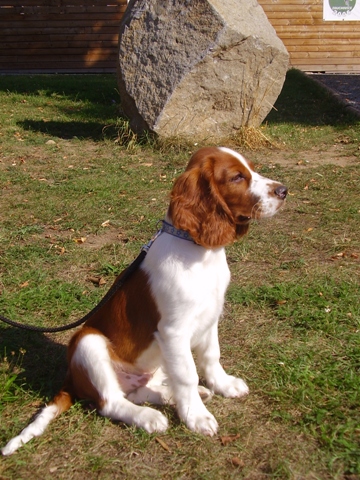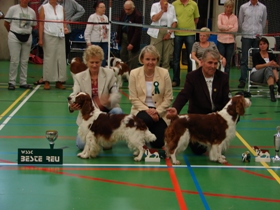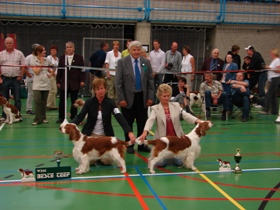 10.8.2007 - welsh springer spaniel female Ressie z Chotuckých alejí has until today home in Krkonoše mountains.

28.7.2007 - little welsh springer spaniel Rendy z Chotuckých alejí gone to his new home.

21.7.2007 - dachshund Nessie z Chotuckých alejí attend with her master National dog show Mlada Boleslav today - she has mark excellent 2.

13.7.2007 - little welsh springer spaniel bitch Ria z Chotuckých alejí travelled today with her new owners to Moravia. We are sure she will like her new home and will be quickly accustomed there.

5.7.2007 - today we have say good bye to 6 little welshies (litters Q and R), they gone to their new owners. Another little puppy is also sold, but he will go to his new home during next month. We believe, that our little spotties will like their new homes and then they will be great friends to their new owners.
Other puppies are still free, and they are prepared to go to their new homes as soon as possible.

2.6.2007 - dachshund Nessie z Chotuckých alejí fetchs along two CAJC titles from trip to Slovakia. 1.6.2007 was presented Nessie as excellent 1, CAJC. Following title she obtained for brave presentation at International dog show Nitra, where she get excellent 1, CAJC and Best junior. Keep it up Nessie!





26.5.2007 - welsh springer spaniel last year puppy Monty z Chotuckých alejí has been liked today at Special spaniel show in Prague - in junior class he get excellent 1, CAJC and junior winner of special show.
Congratulations to Monty and her owner!





26.5.2007 - welsh springer spaniel from our kennel - Lenny z Chotuckých alejí passed today ZV (talent of working abilities test) in 2nd price.


19.5.2007 - dachshund Nessie z Chotuckých alejí attend with her master International dog show Litomerice today with great result - she get excellent 1, CAJC and she may be proud fr her first medal.





14.5.2007 - Honey z Ohrádek give birth to 8 welsh springer spaniel puppies - sex ratio is well-ballanced - 4 males and 4 females. Sire of puppies is Brit od Černých vrchů.
This "R" litter has own page too, where we will put actual pictures and informations.
Puppies should go to their new owners in the age of 8 weeks, it means at the beginning of July 2007.




12.5.2007 - Cindy z Chotuckých alejí has 6 puppies - 4 male and 2 female - litter Q.
Sire of puppies is Brit od Černých vrchů.
Puppies should go to their new owners in the age of 8 weeks, it means at the beginning of July 2007.






8.4.2007 - Happy Easter!






14.3.2007 - today we mate welsh springer spaniel bitch Cindy z Chotuckých alejí with Brit od Černých vrchů as well.
If everything will be O.K., puppies will be born at half of May 2007.
You can reserve these puppies right now.


11.3.2007 - welsh springer spaniel bitch Honey z Ohrádek was mated with Brit od Černých vrchů.
If everything will be O.K., puppies will be born at the second half of May 2007
If oyu are interested, you can reserve these puppies right now. Attention - this is last Honey's mating!!!


25.2.2007 - young dachshund Nessie z Chotuckých alejí with her master today attend special dachshunds show in Holýšov.
Nessie obtained on her first show marks very promising 1.





21.2.2007 - dachshund Alla z Chotuckých alejí has one female - litter P





12.2.2007 - Crys z Chotuckých alejí is from present day proud holder of little INTERCHAMPION


16.1.2007 - USG screening showed pregnancy of dahcshund Alla z Chotuckých alejí, who was mated by Wilko von der Wiedewiese.
If everything will be all right, little dachshunds will be born at the end of February 2007 and could go to their new owners at the age of 8 weeks - it means at the end of April 2007.
We still accepting your orders.


Kennel z Chotuckých alejí wish to all dogs and human's friends excellent health, good luck and show and hunting successes in 2007.


PF 2007 - dachshunds




PF 2007 - welsh spriner spaniels